A white living room can create a sense of spaciousness, serenity and purity. It can also be a blank canvas for your own personal style. If you're looking for some inspiration on how to decorate your white living room, here are some ideas to get you started.
If you want to select a particular color, try Blue Living Room Ideas. Otherwise, try Grey Living Room Ideas. You can also try Brown Living Room Ideas or Modern Living Room Ideas.
When it comes to decorating a living room, white is always a popular choice. And it's no wonder why! White living rooms are chic, stylish, and can make any space look larger and more inviting.

If you're looking for some white living room ideas, we've got plenty of inspiration for you. From all-white furniture and walls to mix-and-match pieces in different shades of white, there are endless possibilities when it comes to creating a beautiful white living room. Here are some of our favorite white living room ideas to get you started:

1. All-White Furniture: A classic way to create a chic white living room is by furnishing it with all-white furniture. This includes sofas, chairs, tables, and storage pieces like bookshelves and cabinets. To add interest and texture to an all-white space, consider using different materials for your furniture like leather, velvet, or wool. You can also play with different shapes and sizes to create an eclectic look.
2. Mix & Match Pieces: If you're not ready to commit to an all-white space, try mixing and matching different shades of white instead. This can be done with furniture as well as walls and floors. For example, you could paint your walls a light ivory color while keeping your sofa in a crisp white shade. Or try using a pale grey rug with creamy white furnishings. The options are endless!
3. Accent Colors: Adding in one or two accent colors is another great way to liven up a whitespace without going overboard. Try using colorful pillows or throws on your sofa or adding in a brightly colored piece of art work on the wall . Gold accents also look lovely against whites , so don't be afraid experiment with metallics as well .
4. Textured Walls : Create visual interest by texturing your walls . This can be done with anything from wallpaper to exposed brick iles . For something more subtle , try painting your walls in horizontal or vertical stripes .
5. Bring In Nature : One of the best ways t o make a w hite space feel warm inviti ng is by bringing i n natural elements like plants flowers, wood, stone etc . Not only do they add beauty but certain plants also have cleansing properties that will help purify the air quality in your home .
What Color Goes With White in a Living Room?
Assuming you would like tips on how to decorate a living room with a white color scheme, here are some ideas. One popular way to use white in a living room is to paint the walls and ceiling white and then use accent colors throughout the room. This can be done by adding colorful artwork, throw pillows, area rugs or even lamps with unique shades.

Another approach is to use different shades of white throughout the room. For example, you could paint the walls a pale blue and use ivory colored furniture and accents. You could also go for an all-white look and then add pops of color with accessories.

Whatever route you decide to take, make sure you experiment until you find a combination that you love!
Is White a Good Colour for Living Room?
White is a versatile color that can be used in many different ways in the living room. It can create a bright and airy space, or a cozy and inviting one. It all depends on how you use it.

If you want to create a light and airy feel in your living room, then using white as your dominant color is a good choice. You can add pops of color with accessories or furniture, or keep it simple and clean with just white and some neutrals. If you go this route, make sure to add plenty of lighting to keep the space feeling bright.

If you prefer a cozier feel in your living room, then using white as an accent color is a great way to go. You can paint the walls a dark color and use white for the trim, furniture, or even as accents on pillows or curtains. This will give the room more depth and interest while still keeping things relatively neutral.

Just be careful not to make the space too dark – you don't want it to feel like a cave!
What Can I Put on My White Living Room Walls?
If you're looking for ideas on what to put on your white living room walls, you've come to the right place! There are a few things to consider when choosing what goes on your walls, such as:
-The overall style of your home
-Your personal taste -What will complement your furniture and decor With that said, here are a few ideas to get you started:

1. Artwork: Adding artwork is a great way to add color and personality to your space. If you have a large wall, consider hanging a statement piece or gallery wall. For smaller walls, try adding a single print or framed photograph.

2. Mirrors: Mirrors reflect light and can make a small space feel larger. They also add depth and interest to a wall. Try hanging a mirror above your sofa or fireplace for an instant update.

3. Wallpaper: Wallpaper is making a comeback in home design! It's available in so many colors and patterns, there's sure to be something that fits your style perfectly. Apply it behind shelves or in alcoves for added visual interest.

4. Paint: Of course, painting is always an option! You can paint one accent wall or all four walls depending on the look you're going for. Choose a bold color if you want make makea statement or opt for something more subdued if you prefer a calming environment .
5. Stencils : Another easy wayto add patternand color toyour white living room walls is with stencils ! You can findstencils at most craft storesor online .
6. Decals : Decals are agreat optionifyou wantsomething temporaryor easilychangeable .They come innumerous designsand sizesand can be placedon anywall surface .
7. Fabric : Covering awall withfabricis another great wayto add bothcolor and texturetoyour space .Wall tapestriesare especially popularright now , butyou could alsohang afew yardsof fabricas asimple draperyor even frameit as art !
8. Washi Tape : Don't forget about washi tape ! This colorful Japanese masking tape can be usedin endless waysto createpatternsand designsonyour walls .
How Do You Brighten Up a White Living Room?
There are a few ways to brighten up a white living room. One way is to add pops of color with accents and decor. Another way is to use light-colored furniture and window treatments.

Finally, adding mirrors and other reflective surfaces can help increase the amount of light in the room and make it feel brighter.
35 White Living Room Ideas
Conclusion
If you're looking for some chic white living room ideas, you've come to the right place. White is a classic color that can be used in any style of home, from traditional to contemporary. And while it might be thought of as a boring or safe choice, there are actually many ways to use white to create a stylish and inviting living space.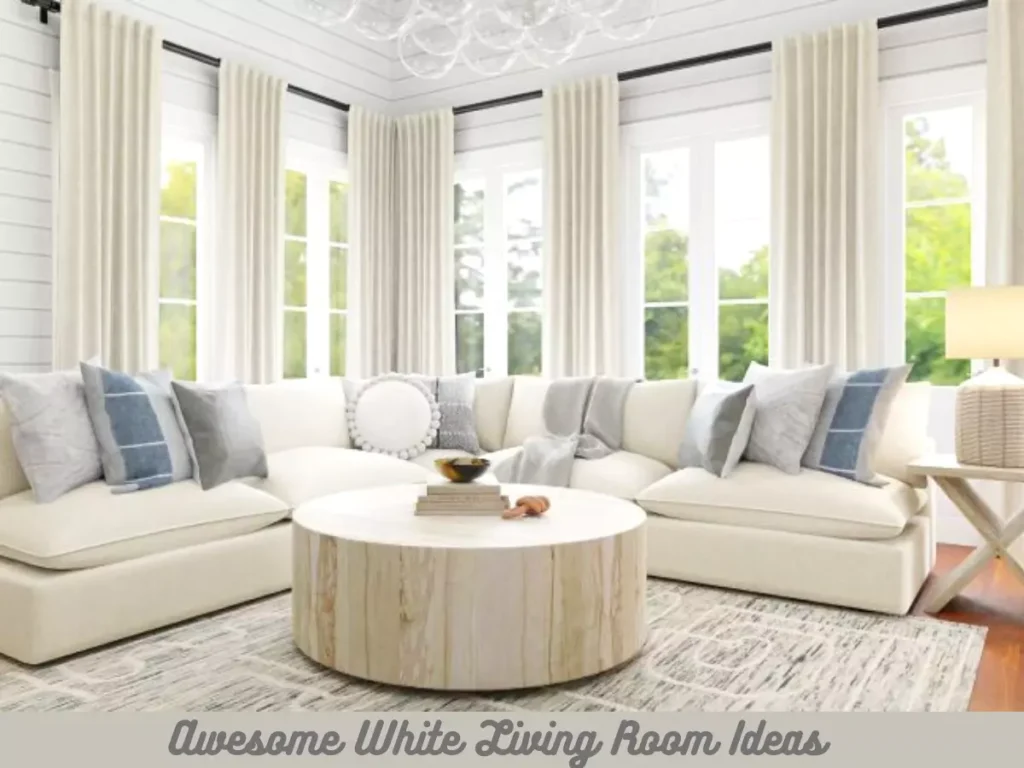 Whether you want to keep things light and airy or go for a more dramatic look, there are plenty of ways to decorate with white. Here are some of our favorite white living room ideas to get you started.
Related Post: