Are you using air fryer for the first time and have a mind full of queries? Learn How to use an air fryer oven
It's for you..This content contains air fryer tips and tricks for beginners.
The familiar, crispy crunch and moist, chewy middle of a dish of french fries or a platter of fried chicken immediately make you happy. Read How to make perfect baked potato in air fryer oven
However, the tempting flavor of crispy foodstuffs lies precisely high cost. The oils used to prepare them have been linked to health issues such as heart disease, type 2 diabetes, and cancer.
As the solution, there are air fryers, kitchen gadgets that promise all the flavor, crispiness, and golden-brown color of delicacies cooked in less oil without the cholesterol and calories.
The flowing air cooks the exterior of the meals first, creating a crispy brown coating while keeping the interior soft, similar to deep-fried delicacies. A container beneath the basket collects any grease that falls while the food cooks.
Air fryers produce crackling, sticky dishes without the need of any oil.
Air frying is generally considered to be healthier than oil frying. It reduces calories by 70% to 80% and has significantly less fat. You can use Instant Vortex Plus 7-in-1 Air Fryer Oven 10-quart
This cooking method may help reduce the negative consequences of oil frying. When you fry potatoes or other starchy meals, you produce the chemical acrylamide, which has been linked to an increased risk of cancer in studies. According to one research, air frying reduces the level of acrylamide in fried potatoes by 90%.
However, several aspects of air frying may be harmful to your health. According to one study, air frying fish increased the amount of a compound known as "cholesterol oxidation products" (COPs). When the cholesterol in meat or fish breaks down during cooking, COPs develop. These substances have been linked to coronary heart disease, artery hardening, cancer, and other diseases in studies.
According to the study, adding fresh parsley, chives, or a combination of the two reduces the quantity of COPs. According to research, these herbs function as antioxidants to lower the COPs in air-fried meals.
Air frying appears to reduce omega-3 fatty acid levels in fish. These "good fats" reduce blood pressure, boost "good" HDL cholesterol levels, and may protect the heart.
The air fryer can be used to crisp food without using oil, but it also has many additional applications. In fact, you can roast an entire chicken or a pork roast, quickly reheat food, and even dehydrate goods like fruit and meats.
An air fryer can do everything an oven can do, but in a smaller space, so it takes less time to cook the food and it gets crispier on the exterior while remaining moist on the inside. There are versions for little rooms as well as larger models for larger families who want more food to be cooked at once.
To demand of air fryer is increasing rapidly. So I wanted to be sure you were getting the most out of this fantastic equipment in the kitchen, so I am going to share all of my valuable air fryer tips and tricks with you in this article.
You must keep your air fryer clean for ensuring real flavour through How To Keep Air Fryer Clean Superb After Every Cook 
The steps below should be necessary to show you how to properly clean an air fryer. However, there are a few other aspects you should consider to make it even better. Here are a couple such examples:
1. Preheating is not Required:
The air fryer does not need to be preheated before cooking. If you do, your recipe's cook time may be affected. Preheat only if instructed to do so by the recipe.  
2. Use very little oil Avoid using too much oil: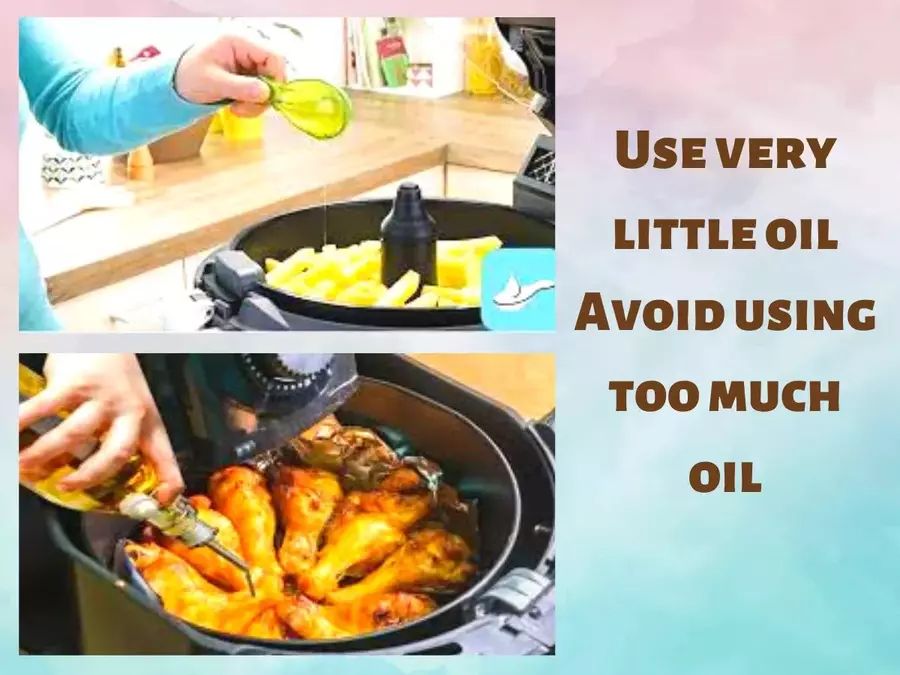 Air fryer foods require less oil to crisp up. Excess oil will simply drip from the food and pool at the bottom of the machine, producing smoke. Simply touch foods with a tiny mist of oil. There's no need to add extra oil to frozen deep-fried dishes because the breading already contains a lot of oil. Vegetables benefit from a mild oiling. No oil is required for skin-on chicken thighs.
3. Cooking times are estimates:
As with any appliance, none of them are precisely the same in terms of calibration, wattage, and so on. There is always the possibility that you will need to cook for longer or shorter than the recipe specifies. Keep an eye on the food at all times. Cooking times will vary by 2 to 5 minutes.
4. Immediately Soak the Basket for easy Cleanup: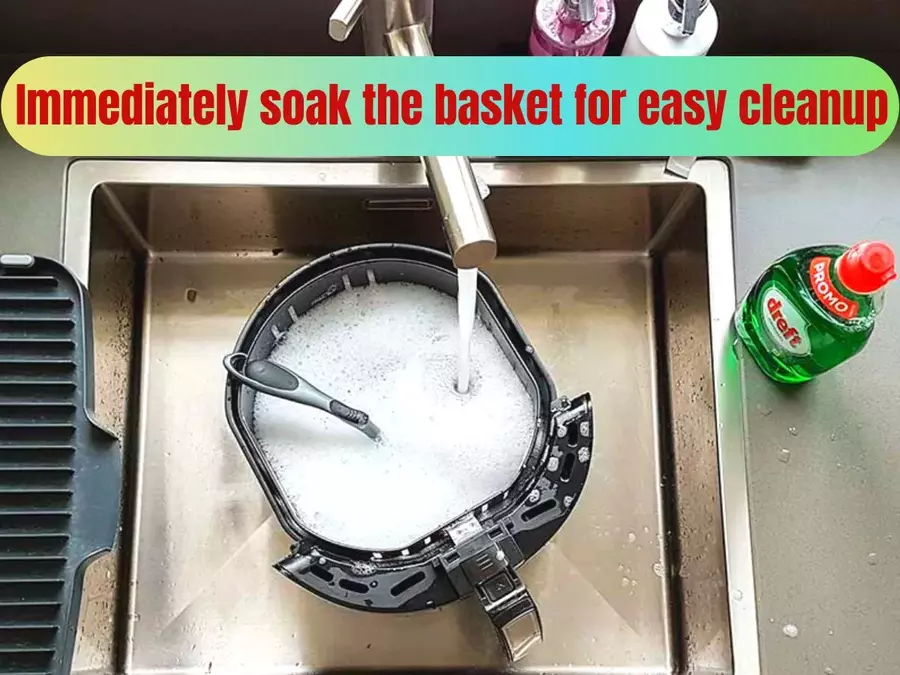 The simplest approach to clean the basket after use is to soak it in hot soapy water while it's still warm. Shifting the basket to the sink and soaking it prevents any sticky or fatty food from drying on and makes cleaning it a breeze.
5. Avoid Overcrowding the Basket: 
Even if you have an air fryer with a huge basket, not as much food will fit as you might imagine. Food need space and air movement in the air fryer to become crispy. If you add a complete bag of frozen fries, they will not get as crispy as if you only used half of the bag.
It will also take more time to cook. If you put too many items in your air fryer basket, the air will not circulate properly and your food will not become crispy. If you're cooking a large batch of something, cook it in parts rather than all at once. This is especially critical for fries, diced vegetables, and other little products that need to be crispy.
6. Use Water to Prevent Smoking:
The air fryer isn't supposed to produce white smoke when cooking, however some models do more than others. If your air fryer starts smoking while cooking fatty meals like pork belly or chicken wings, put a small amount of water in the bottom of the cradle to prevent it from smoking. Read more on Certain Things You Should Never Put In An Air Fryer
7. Frozen Meals in the Air Fryer: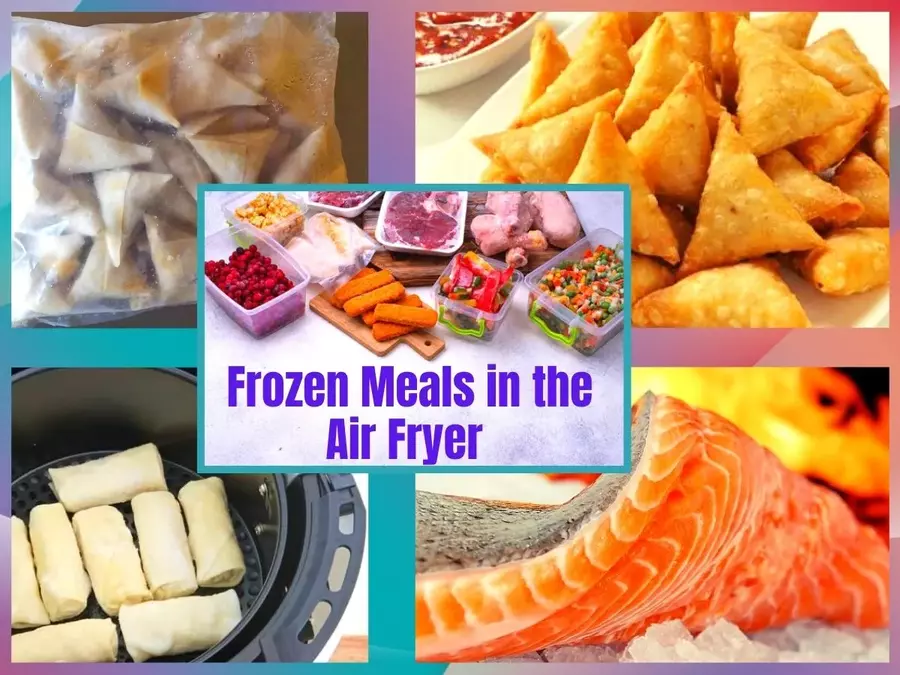 You can cook a wide range of frozen meals in the air fryer, from cauliflower gnocchi to chicken nuggets.
8. Make Breading using Breadcrumbs rather than Flour: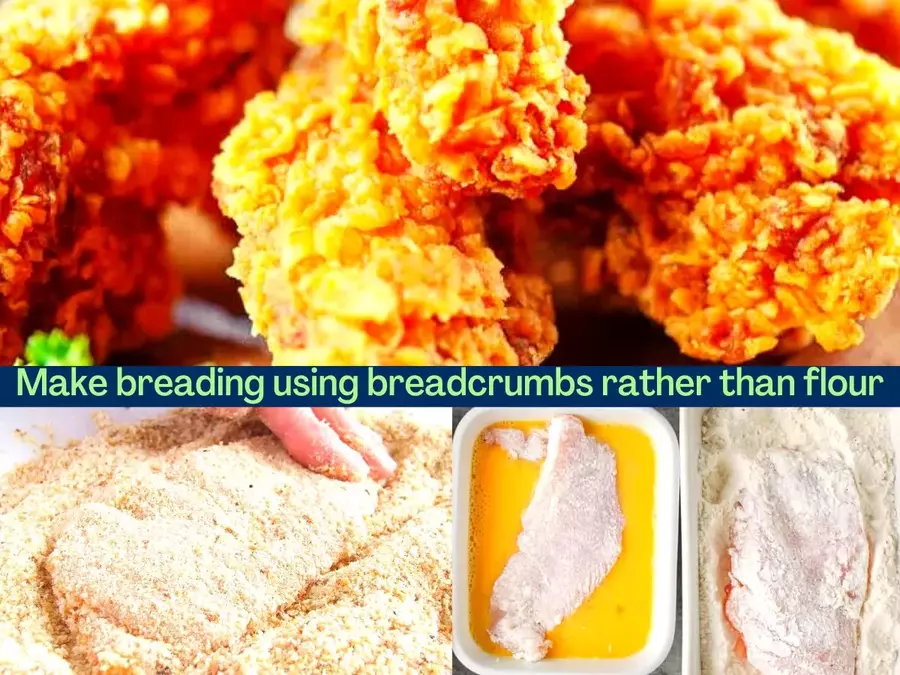 In the air fryer, you can make any type of breaded meal, and it will come out lovely and golden crispy. However, in order to achieve that golden crisp, you must toast the item with breadcrumbs then properly spray it with oil. In the air fryer, breading with just egg and flour, like you may do with fried chicken when deep frying it, will result in a less desired crust.
9. Make use of a Reusable Spray-on Oil: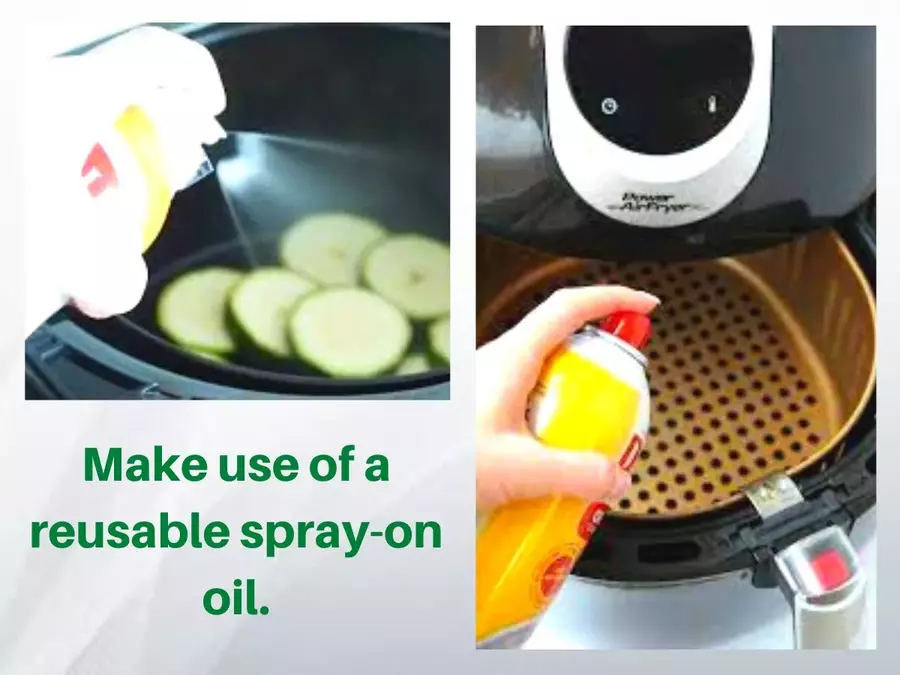 We don't suggest nonstick sprays like Pam since they create a sticky residue on the air fryer basket and destroy the nonstick coating. It is recommended to buy a refillable spray bottle. In the air fryer, never use an aerosol spray.
10.Use Parchment Paper to avoid Sticking: 
It's not always necessary, but if your food is very sticky or delicate, you can add parchment paper to keep it from clinging to the basket. I use them when frying fish to keep it from crumbling when I remove it from the basket. You can get round or square parchment paper pre-cut with air holes to ensure proper air circulation around your food.
11. Tin Foil can be Used: 
If you're curious, you can use tin foil in the air fryer. It can be used to prevent foods from keeping together or to make cleaning easier. You can also use it to wrap liquid foods or steam food in the oven (covered in foil).
You could alternatively cook in an aluminum pan, which is safe to use in the air fryer. Disposable foil pans are ideal for reheating meals in the air fryer, such as lasagna or a casserole.
12. Place the Air Fryer Carefully:
I've been asked several times if it's okay to place the air fryer on the kitchen counter. Yes, it is correct. The air fryer does not need to be placed on anything. However, you should be cautious of what is around the air fryer.
If you place it too close to a hot or meltable surface, the heat from the machine can damage nearby surfaces. When you remove the air fryer basket from the base, it is quite hot, so avoid placing it immediately on a countertop that may melt or warp.
13. Use the Air Fryer to Reheat Leftovers: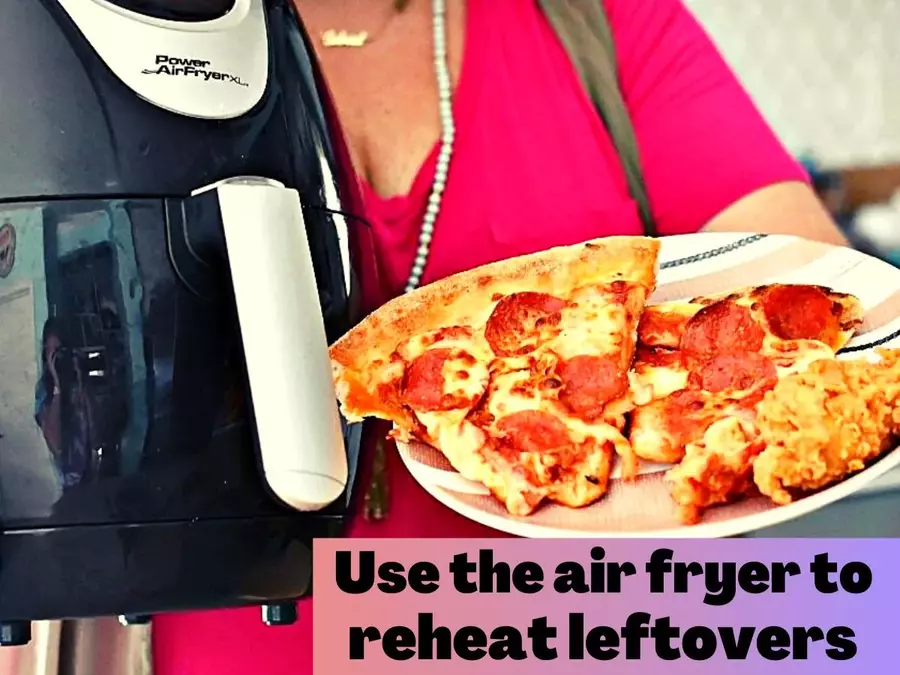 I used to use the microwave to reheat things, but I discovered that the air fryer works better, especially for items that benefit from a little extra crispiness. I now reheat pizza, rolls, hamburger buns, leftover chicken, ribs, and other foods. It does an excellent job and works quickly.
14. Prepare Hard-Boiled Eggs: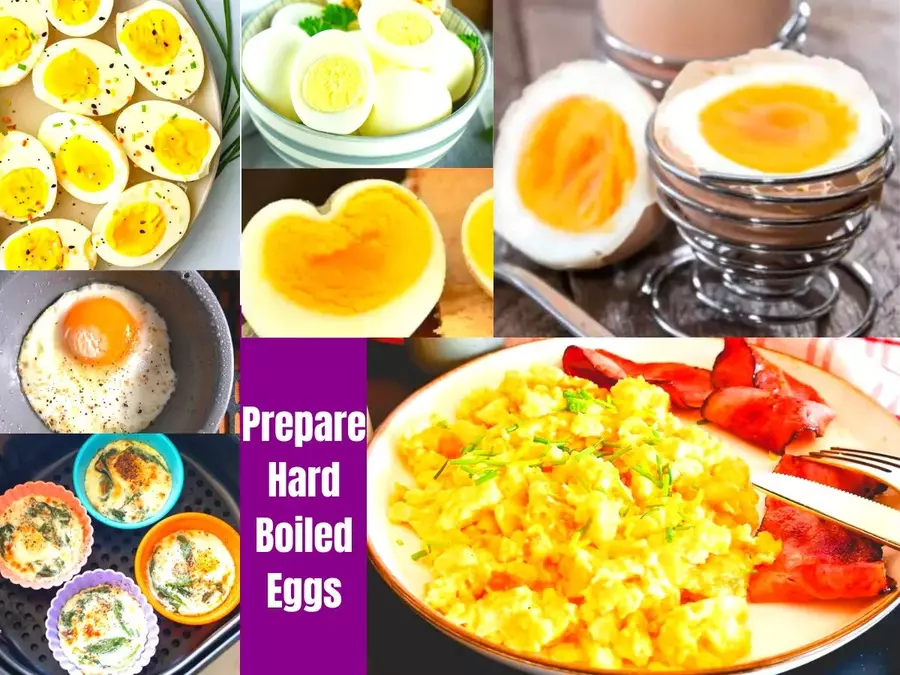 Okay, they aren't exactly boiled, but you can cook eggs in the air fryer and they will taste just as nice as boiled eggs. It takes somewhat longer than cooking on the stove top, but you don't have to deal with the water and open flame on your gas stove.
15. Save Cooking Times: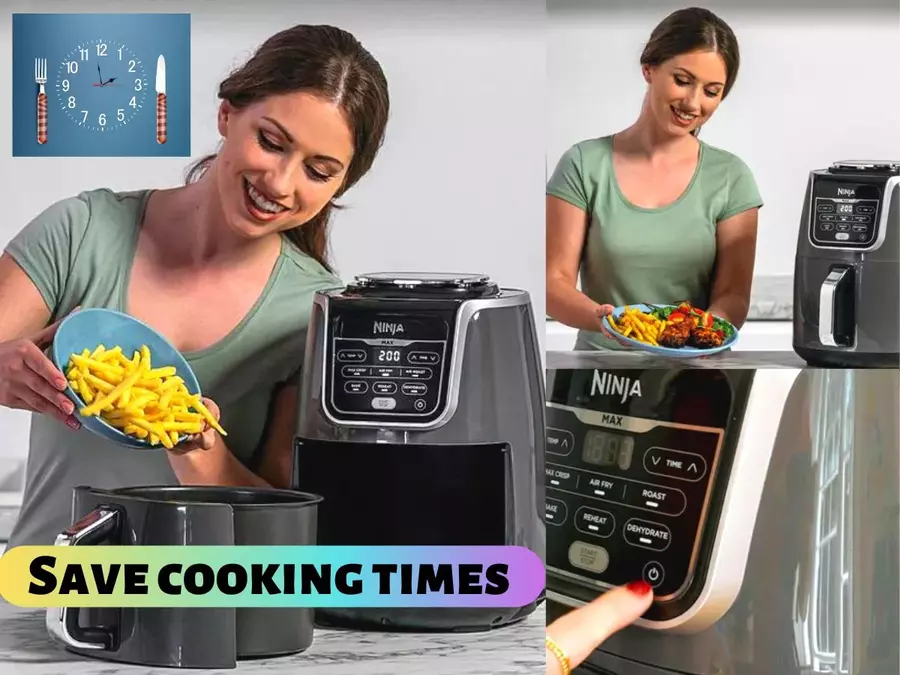 The more you use your air fryer, the more automatically you'll know how long and at what temperature to cook your typical dishes, but until then, use our handy cooking times cheat sheet that you can easily pin to the fridge and refer to whenever you need to. This content is air fryer tips and tricks for beginners to follow.
Simply set your eggs in your air fryer basket or on top of the wire rack included with some models, and cook for 12 to 16 minutes at 250°F — 12 minutes if frying on a rack, 16 minutes if cooking directly in the basket.
Place them in an ice water bath to swiftly cool down after they've finished cooking. (Note: You may wish to start by testing this procedure with just one egg.) Cooking times may vary based on the model of your air fryer.)
16. Use a Digital Thermometer to Check the Internal Temperature of Meats: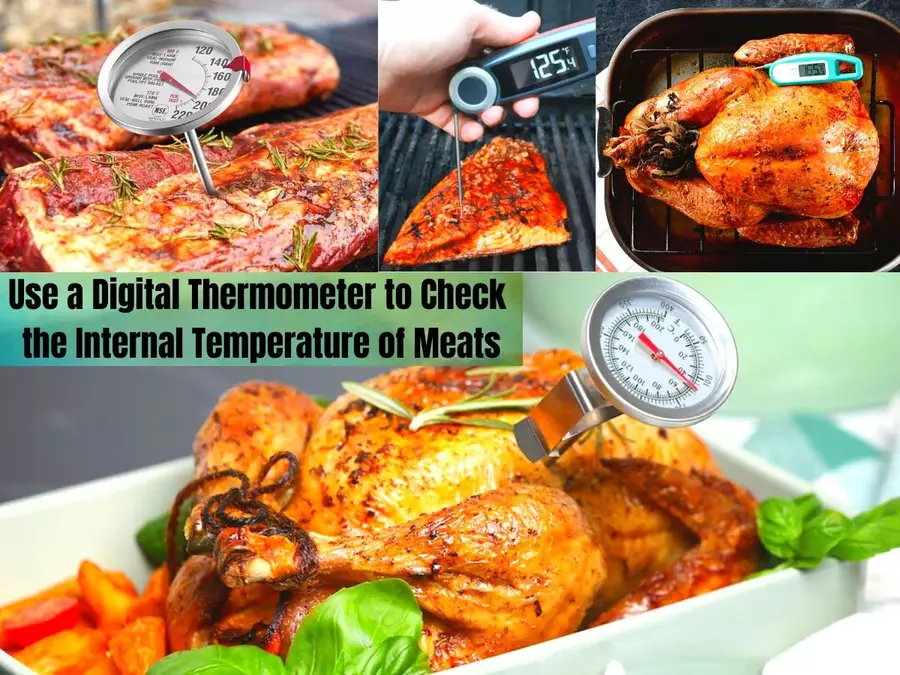 The only way to be certain that meats are completely cooked is to use a digital thermometer to check the interior temperature. You can open the basket near the end of cooking and quickly take the temperature to determine if it's done. Because each air fryer cooks differently, it's best to rely on the thermometer rather than the recipe cooking times.
17. Use a Toothpick to Keep Cheese Slices in Place: 
If you're cooking burgers in the air fryer and want to add a cheese slice to melt on top, use a toothpick to keep it from flying away. Otherwise, it could not be there when you go back to check on it. You can also secure a slice of bread by inserting a toothpick through the bread and into one of the basket's holes.
18. Deactivate the Beeping: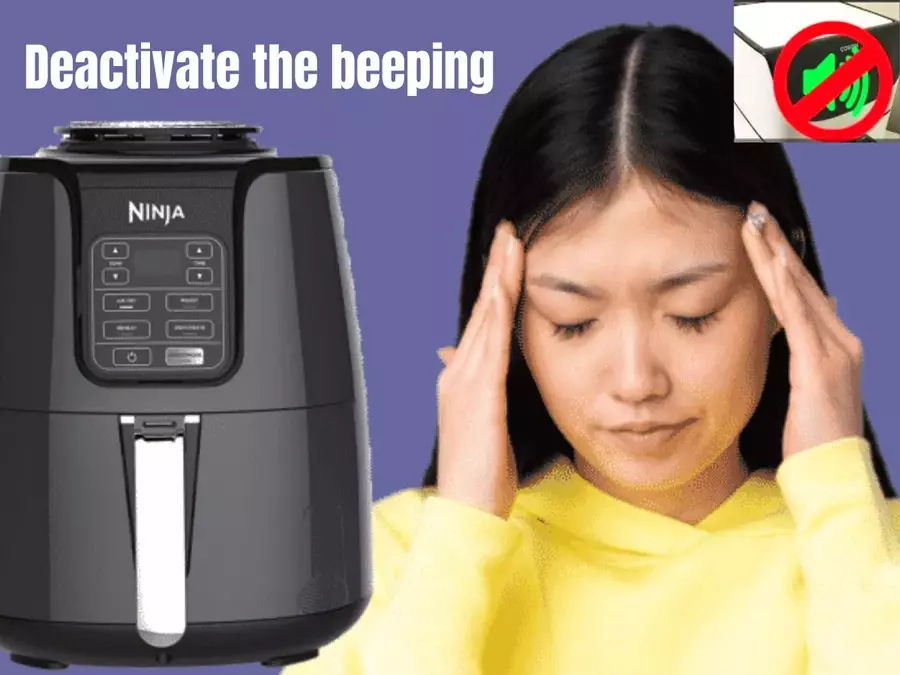 I'm not sure about you, but my air fryer beeps a lot and goes off five times. Depending on the sort of system you have, you may be able to disable the beeping. In most cases, it is performed by holding down the minus keys for around three seconds.
If it doesn't work, you may have to remove the cover to identify and remove the beeping mechanism. So this content air fryer tips and tricks for beginners is very effective.
19. Mold for Egg Bites:
The egg bites mold can be used to make a variety of snacks, muffins, and canapés. You can bake all kinds of delightful delights if you have an egg bits mold, even if it comes with your Instant Pot. Make corn bread muffins, little cake balls, doughnut holes, mini cheesecakes, meatballs, cinnamon roll bits, micro pancakes, and more delicious dishes.
20. You can use Olive Oil in an Air Fryer:
choose varieties with smoke points between 3900 and 4700F rather than extra-virgin varieties with smoke points between 3500 and 4100F. You would believe that covering your food in a lot of oil will make it crispier in the air fryer, but less is more when it comes to oil. If you use too much olive oil, your dish may get soggy rather than crisp. Reduce the quantity of olive oil used for maximum taste and texture.
21. Cook Larger Meals in a Single Layer: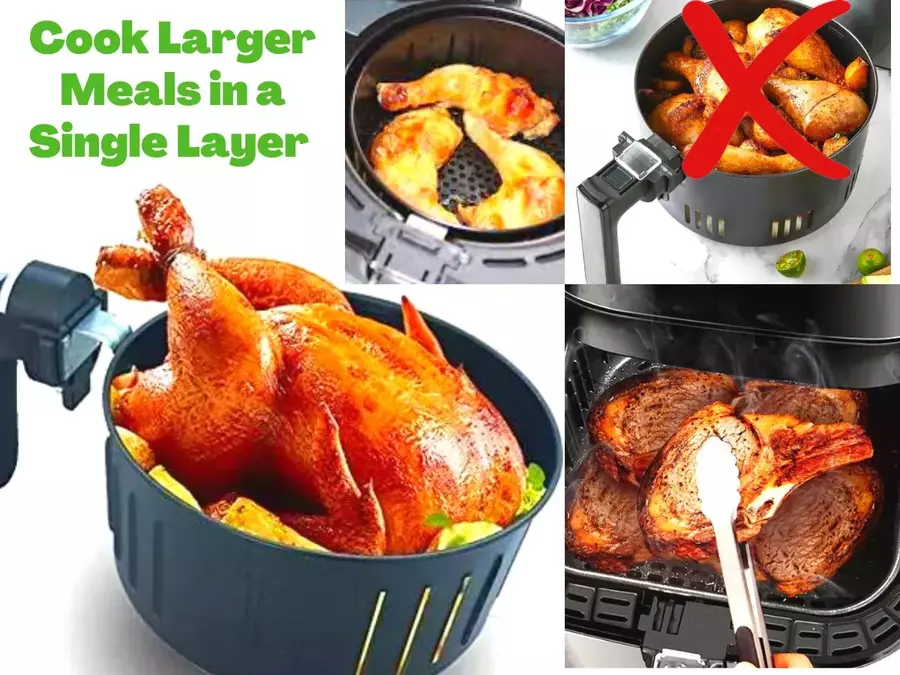 such as whole chicken cutlets or pork chops, in a single layer rather of stacking them. Steaks, pork chops, fish fillets, and burgers should be cooked in the air fryer in a single layer. If you stack them, the sides that touch will become colorless and soggy. If the bottom of your air fryer basket can only hold three steaks at a time and you want to cook more, you'll have to cook them in batches.
22. Allow at Least 5 Inches of Space Around Your Air Fryer:
Air fryers rely on hot air circulation to crisp up food, so be sure your machine has enough room on all sides to allow for good air movement. Allow 5 inches of clearance on all sides as a general rule, and ensure sure your surfaces are heat-resistant. You don't want to use an air fryer against a wall to cook.
23. To Toast Nuts, Use Your Air Fryer Instead:
The hot circulating air from the air fryer is ideal for quickly toasting a batch of nuts. Toss them in the basket with whatever spice you choose and toast them till golden and creating popping noises. Just remember to take them out when they're still tiny bit lighter than you'd like – the nuts continue to cook after you take them out.
24. Clean Your Air Fryer After Each Usage: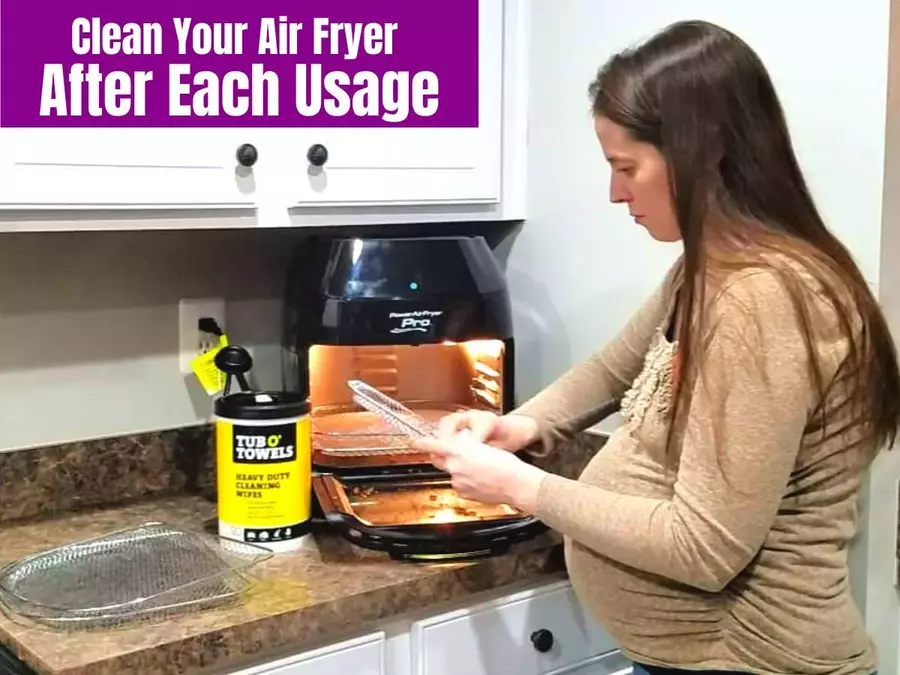 After using your air fryer, you should let it cool before cleaning it. Cleaning the basket, the drawer that collects any oil/drippings, and the machine itself are all required. If you observe smoke coming out of your machine while you use it, this means that your air fryer has gathered oil and needs to be cleaned.
Cleaning the machine is simple and may be done with standard soap and water; just avoid putting the components in the dishwasher.
25. Prevent Seasonings from Sputtering all over your Food:
combine them with oil before using. Lightweight spices tend to be blown off of food in an air fryer due to the high air circulation. To avoid this, mix your spices and oil, then coat your objects in that mixture. The oil weighs them down and binds them to the meal.
26.  Only Use a Sponge, Towel, or Brush:
when it has totally cooled down, is unplugged, and is on a level surface. Clean the air fryer only use a sponge, towel, or brush. Nothing else should be used. Because the nonstick coating on the device is often brittle, even small damage may cause the surface to be scratched and the coating to be removed. Make every effort to keep the air fryer from being damaged by heat, shorts, or damage.
27. Avoid Stacking Food to Ensure Equal Browning: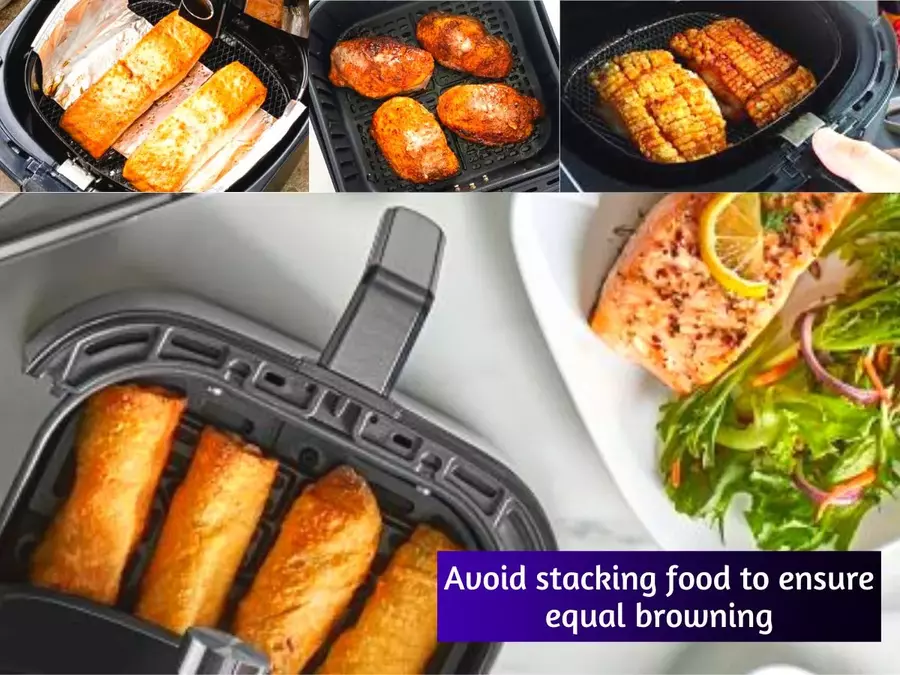 If you want your food to have a good browned crispy appearance, especially for things like pork chops or chicken thighs, don't stack it on top of each other. You may have to cook in batches, but the results will be worth it. Some dishes, such as French fries or chicken wings, can be rotated easily and do not need to be in a single layer.
28. If Your Air Fryer Starts to Smell After a While:
 simply add half a lemon to the soapy water you use to clean the pan and basket. When washing the outside, a few drops of lemon juice can be added to the baking soda paste. Then, to prevent the lemon from corroding the steel, discard the excess.
29. Avoid Nonstick Aerosol Cooking Sprays:
 on the other hand, should be avoided as they may damage your air fryer. You should avoid using nonstick cooking sprays since they include ingredients that can "damage the nonstick coatings on some air fryer baskets." A simple solution is to buy a spray bottle and fill it with your own oil. Thus this content air fryer tips and tricks for beginners is very essential.
30. Shake the Basket about Halfway Through: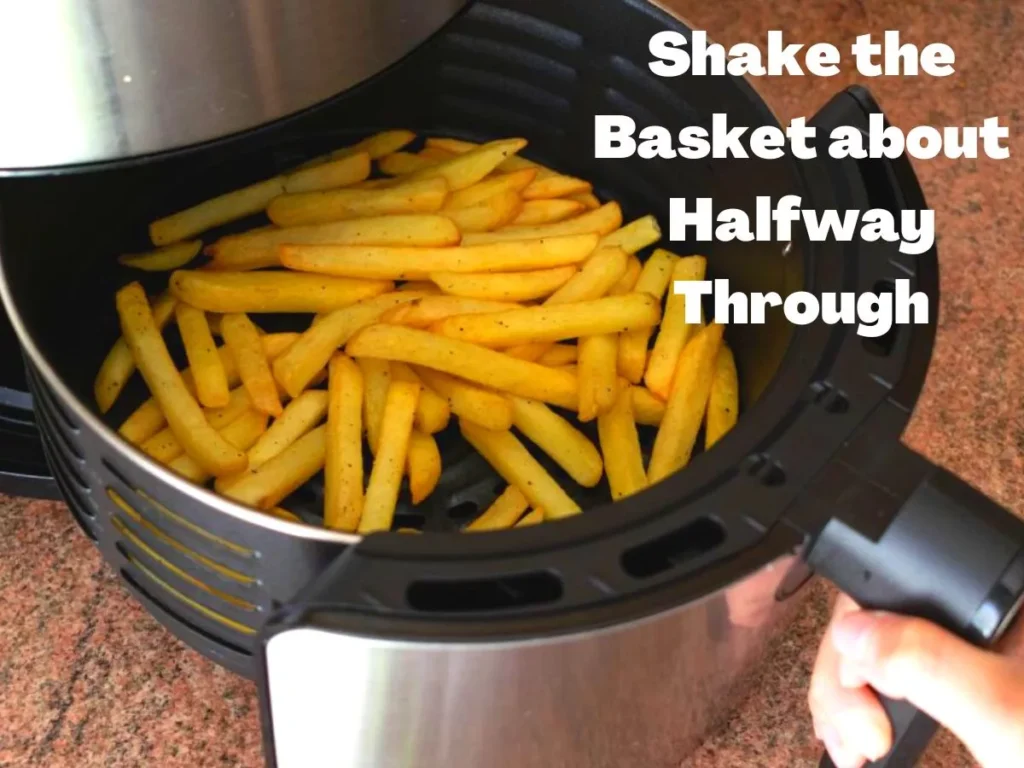 Shake or turn over your food at least once during cooking to get it nice and crispy all over. Some air fryers include a "shake reminder" function that beeps when the basket needs to be shaken. Set your own timer if you don't have one. Shake the basket a few times during cooking to ensure that your foods are cooking evenly. You can leave the air fryer going while just removing the basket. This is very handy for small objects that need to be crisped all over, such as fries or small roasted vegetables. A few shakes should suffice to ensure that everything is crisp and consistent.
31. Remove the Basket before Dumping:       
The majority of basket-style air fryers feature two components. There's the cradle or drawer, and then there's the basket that fits into it. It's tempting to remove the entire cradle from the air fryer and dump the food, but doing so can allow all of the oil in the bottom to spill out as well. Before dumping the food, always remove the basket.
32. You can use other Pans within the Air Fryer: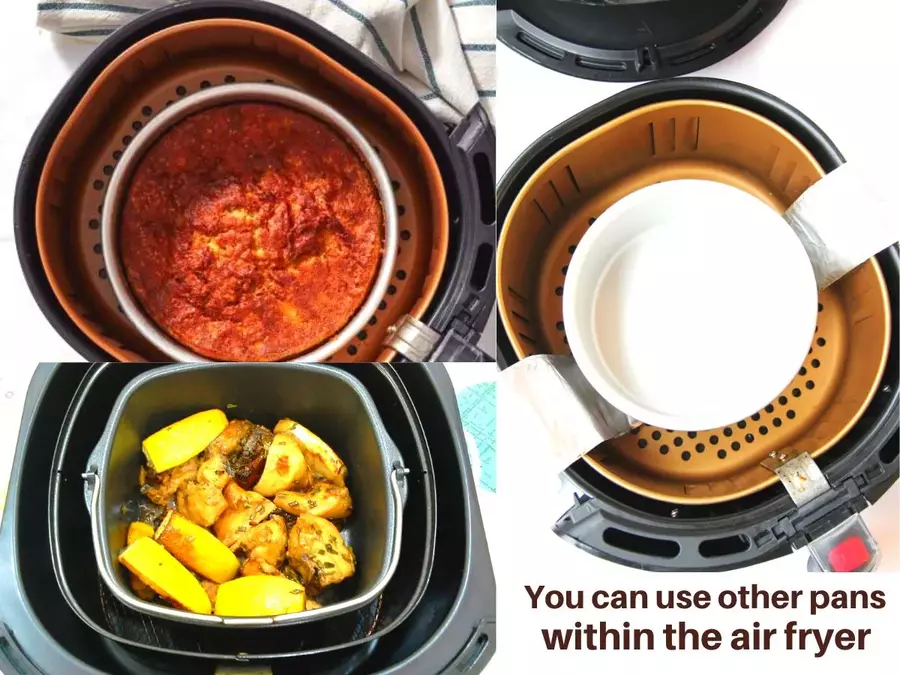 Any baking dish or cake pan suitable for use in the oven is suitable for use in the air fryer. Stainless steel pans, silicone pans, and even oven-safe glass pans can be used. Just be careful not to let them come into touch with the heating element.
33. Prepare a Cake: 
In the air fryer, you can bake anything. The only requirement is that it fit in the basket. Go ahead and bake your cake in a silicon cake pan that fits in the air fryer basket. You'll be surprised at how good it tastes and how quickly it cooks compared to baking.
34. Cooking Light Items should be Avoided:
I mean "light" in the sense that they are nearly weightless. When I first tried to put a slice of cheese on a burger in the air fryer, it fell off and melted into the bottom of the cradle. The air fryer can make popcorn, but it's tough to keep it from flying up into the heating element and burning. I've also created pumpkin seeds and croutons in the air fryer, but you have to keep an eye on them so they don't fly up and burn. So this content air fryer tips and tricks for beginners is very important.
35. Remember to Clean the inside of the Air Fryer: 
You're probably cleaning the air fryer basket after each usage. That is self-evident. But do you clean the inside of the air fryer as well? It can become caked with grease and filth, causing smoke and damaging the heating element, not to mention the possibility of a fire. Depending on how frequently you use the air fryer, you should clean the inside at least once a week or once a month.
Conclusion
These are my personal experience of using air fryer in various ways. So I can ensure that you will not suffer a loss rather be beneficial if you follow these steps properly.
Furthermore, store the appliance in a cool, dry place to keep it clean. If possible, attempt to cover it with a bag or box. Even the smallest scratch or damage can harm an air fryer. 
With the help of these air fryer tips And tricks for beginners, you may take better care of and clean the equipment. If you follow their guidelines, I hope, your air fryer will remain beside for many years.